Staff Training
Once hired, each care giver must complete twelve hours of training in child development each year. In addition, all staff are CPR and First-Aid trained.

Hello,
My name is Tawanda . I am the director/owner ofTower Grove Comunity Preschool. I am 35 yrs. I am married to my wonderful husband Joshua (that's us below) and have 5 very busy children, Kachiri 16, Mercedes 12, Micah 9, and Kalan 6, and Ayla 16 months. In addition to owning my family child care business, I am a homeschooling mom. Yes, you guessed right I am busy. I love what I do. I love being around the children watching them grow and learn. It is an honor to be able to touch the lives of so many families. I love them all!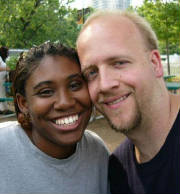 Jr. Assistant: Ms Kachiri is our jr. assistant. She cooks most of our lunches and helps out at outside time and with the evening shift. Kachiri is my oldest daughter and all the kids love her. Kachiri is also a jr. assistant at Our Lady of Presentation Catholic School where her grandmother is the director of the enrichment program. She helps with snack and homework there as well as outside time.